2016.04.10 Sunday 11:05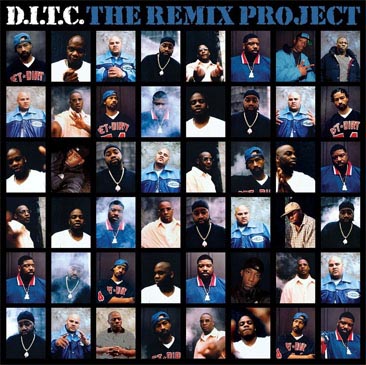 D.I.T.C./ The Remix Project (2LP) ¥4299(税込)
再入荷!!
Vinyl Only Track 2曲収録!!
90's N.Y.シーンの最重要コレクティブ D.I.T.C. (Diggin' In The Crates)によるクラシックの数々を、 2014年版にアップデート&リミックスした超スペシャルなコンピレーション・アルバム、 『D.I.T.C. The Remix Project』が待望のバイナル化!
Slice Of Spice is proud to have partnered with DITC Entertainment to present 'D.I.T.C. The Remix Project' on vinyl. This incredible remix project has been pressed to x2LP on 180 gram wax, and presented in a full color gatefold jacket.

We've spared no expense here, mixing with Eddie Sancho, mastering with Tony Dawsey, to ensure a superior quality product and audiophile wax.

WE CUT VINYL, NOT CORNERS!

Click the SoundCloud link below to stream audio, track list information and more...
A1. Diggin' In The Crates (DJ Premier Remix) ft. Diamond D, Showbiz, A.G., & Lord Finesse
A2. Internationally Known (Diamond D Remix) ft. O.C., Fat Joe, & Big L
A3. Foundation (O.Gee Remix) ft. Diamond D, O.C., A.G., & Lord Finesse
B1. Da Enemy (Bink Remix) ft. Big L & Fat Joe
B2. We All (Alchemist Remix) ft. O.C. & A.G.
B3. Casualties Of A Dice Game (Buckwild Remix) ft. Big L
B4. Best Behavior (Showbiz Remix #1) ft. Big Pun & Fat Joe
C1. Thick (Lord Finesse Remix) ft. A.G., Big L, & O.C.
C2. All Love (Apollo Brown Remix) ft. Fat Joe, Lord Finesse, Big L, & A.G.
C3. Drop It Heavy (Buckwild Remix) ft. KRS-One, Big Pun, & A.G.
D1. Way Of Life (Marco Polo Remix) ft. Fat Joe, Big L, Party Arty, & Showbiz
D2. Time To Get That Money (9th Wonder Remix) ft. A.G., Diamond D, & O.C.
D3. Da Enemy (Showbiz Remix) ft. Big L & Fat Joe *BONUS (Vinyl Exclusive)
D4. Internationally Known (Showbiz Remix) ft. O.C., Fat Joe, & Big L *BONUS (Vinyl Exclusive)