2016.05.24 Tuesday 01:16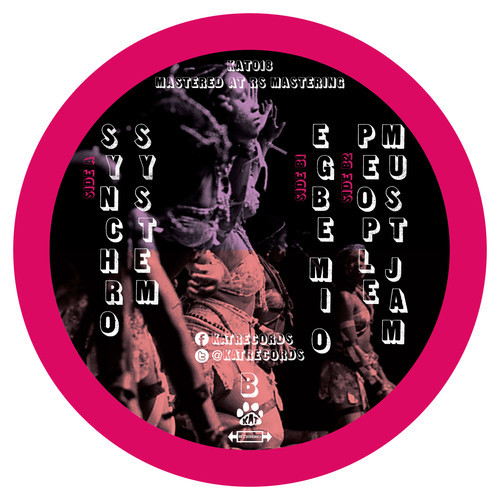 Frank Booker / Edits (12") ¥1998(税込)
再入荷!!
Limited Repress!!
Gilles Peterson
から
Ashley Beedle
迄プレイする話題作!!
James Brown"Skin"のエディットを含む「Razor-N-Tape」からのEPもヤバかった
Frank Booker
が、「Kat Records」から3TRKエディットEPをリリース!!
A-Sideは80's 「Island」を象徴する作品の一つであるKing Sunny Adeの83年作「Syncro System」のエディットで、ミッドテンポのパーカッシヴなリズムに、Adeの歌声とトリッピーなギターが飛び交う原曲のヴァイブ/ムードをそのままに、80's的なナイト・ダビングなサウンド/グルーヴでよりダンサンブルさを増した仕上がりに。C/WはFela Kutiの「Egbe Mi O」を、こちらも80's的なサウンド/グルーヴを感じさせながらミッドテンポのパーカッシヴなアフロ・ブギー/ディスコに再構築!! 爽快なカッティング・ギター、ファンキーなベース、残響感溢れるクラップが際立つ爽快でダブ・パーカッシヴなブギー「People Must Jam」も最高!!
これは、大推薦ですよ!!
3 reworks from Antipodean DJ and Producer, Frank Booker.

First up is the monster reworking of King Sunny Ade's afro biggie Synchro System, originally released in 1983 and taken from the album of the same name.

Things are turned into a mid tempo 4/4 house shuffler with a killer groove and dope arrangement. The guitar lines, horn riffs and vocal hooks will have you gripped and holding on for dear life, but the real winner here is the groove that underpins the whole shebang which just glides along and takes you with it for a highly enjoyable ride.......This will be causing all sorts of commotion on dancefloors near you soon, you have been warned !

On the flip we have Frank's take on Fela Kuti's Egbe Mi O. Again, a low slung 4/4 house groove sits under this Fela classic....All sorts of Afro goodness are diced up (including the ace Ginger Baker percussion) and lovingly strung back together turning this into an instant mid-tempo house classic..

Rounding things off is a cheeky cut n paste track, People Must Jam named after the Sydney based Disco party. It sits somewhere between P-Funk, Roller Skating Jam Disco and House, an achingly infectious filtered groove teases and then teases some more sealing this fine 3 tracker off with a winning smile.

Feedback

Gilles Peterson - Sounds good!

Dr Bob Jones - many thanks for the Frank Booker edits- superb production on all 3 cuts at the moment it's 'Egbe Mi O' that's getting major action - Full support on club and radio on all 3 tracks - no problem.

Ease, Nightmares on Wax - totally loving this, straight in my playlist and perfect for Wax Da Jam Ibiza this summer. I'll be rocking all 3 of these beauties !!!
Muchas Gracias Amigos!!!

Yam Who? - All killers track, and a little bit more progressive & deeper than the usual edits, 'Egbe Me O' the stand-out & getting road tested this weekend!

Bill Brewster UK, - Egbe Mi O and People Must Jam are very good and I will use in my DJ sets and on my podcast

Graeme Park - Oh yes!

Jim Baron, Crazy P - People Must Jam is ace, I love Franks stuff!

DJ Pope, USA - loving the Fela edit

DJ Prestige, USA - It's a corker full review here fleamarketfunk.com/2013/03/22/frank-booker-edits/

Richard Rogers (Black Booby/S.O.B.) - Synchro System is an amazing rework and with its slow burning, lo-slung tempo and groove it will possibly fit into my house sets alongside edit based journeys. Hi-fidelity as always from the mighty KAT x

Ashley Beedle, UK - All three tracks are great dancefloor edits. Frank Booker is on it!

Michael Ruetten Soul Searchin', Germany -
Always worth the wait - Frank Booker is the man when it comes to Fela edits.
cool to see this out officially now. Full support.

Harri, Sub Club, Glasgow, Scotland, UK - Thanks for these... love, and still play originals of these....very handy edits : )

Kev Beadle, Southport / SunCe Beat Resident - Great Fela edit. Infectious groove and vocal harmonies

Bonar Bradberry, PBR Streetgang - BAD BWOY from start to finish !

Jonathan Moore / Leftside Wobble, UK - It's all about the wonderful Synchro System rework for me. Proper afro chugger!

Danielle Moore, Crazy P - I love Frank Booker! Amazing choices here and I really cant pick a fave BUT my 2 absolute players People must Jam and Egbe Mi O just made me dance like a wild woodland beast... hardcore for the dance floor xxx

Rustam Ospanov - Thank you! I will include this release in my forthcoming charts!

Sean Gorham, ISM Records - Huge Release absolutely my flavour 'People Must Jam' will be getting some serious play from me for a long time to come.

Mark Milz, Further in Fusion Radio, Germany - Amazing!!! Will definately be played out on my show!!!

Keith Dalton, GroovementSoul Dublin - Really diggin' all three edits here. Full support

Andy Wilson, Ibiza Sonica Radio, Ibiza - I love a bit of Nigerian edit action, bought Ju Ju Music lp last month as Sunny Ade early 80's was so so good. Like what he's done on the Synchro System edit, great groove. Played in my show on Tuesday. Fela Kuti rocks along very nicely too. Good work

Matty J, The Pool, UK - Synchro System rub is working

Miky Merz, Switzerland - Synchro System is kinky and teasing the open minded party crowd.

DJ Kwak, Brussels, Belgium - Aill played last week and again this week on the radio. It just remains Stuck in my head which I believe to be a good sign!
A. Syncro System

B1. Egbe Mi

B2. People Must Jam