2013.10.09 Wednesday 00:28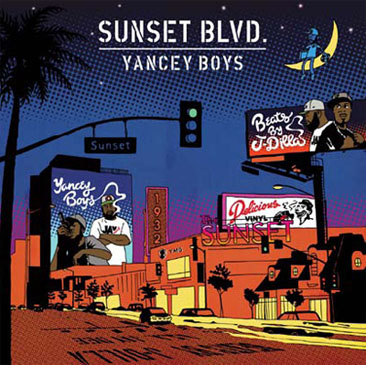 Yancey Boys / Sunset BLVD. (2LP) ¥2890(税込)
「11月上旬入荷予定」
この商品を予約希望の方はこちらの
「add to cart」
から
Coming Soon!!!
全トラック秘蔵の
J Dilla
ビート!
J Dilla実弟の
Illa J
と、
Frank-N-Dank
の
Frank Nitt
とのタッグ、
Yancey Boys
が投下する待望のフルアルバム!
"The Throwaway"、"Fisherman"、そしてCommonをフィーチャーした"Quicksand"の先行3曲でジワジワ期待を煽りつつ、遂 に発表となったIlla J & Frank Nittのデュオ、Yancey Boysによるフルアルバム! J Dilla音源のオフィシャル管理 人フランク・ニット監修の元、とわの眠りから覚めた秘蔵のJ Dillaトラックを全曲で使用、手練れ揃いのフィーチャリング 陣を従えた2枚組アナログ!!
Featuring: COMMON, POSDNUOS (DE LA SOUL), TALIB KWELI, T3, J ROCC, GUITLY SIMPSON, RHETTMATIC, SLIMKID3 (THE PHARCYDE), ERIC ROBERSON, DEZI PAIGE, EARLY MAC, etc
Delicious Vinyl proudly releases Sunset Blvd, the new album from Yancey Boys, the group piloted by John "Illa J" Yancey and Frank Nitt. The dynamic new collection is built around previously unheard tracks created by Illa J's brother: the late, great J Dilla (James Yancey). With Frank Nitt's standing as J Dilla Music Catalog Curator and the official approval of Yancey Media Group, all productions on Sunset Blvd originate from The Lost Scrolls - the stunning cache of beats Dilla left behind.

With its rapturous single "Quicksand" featuring Common, Sunset Blvd also teams Yancey Boys with De La Soul's Posdnuos ("Beautiful"), The Pharcyde's SlimKid3 ("Rock My World"), and T3 of Slum Village ("Jeep Volume"), making it clear that the Dilla legacy is being represented by those who knew and collaborated with Dilla in his lifetime. Additional guests on Sunset Blvd include DJs Rhettmatic, C-Minus, and J Rocc (Beat Junkies) as well as rap roughneck Guilty Simpson and R&B strongman Eric Roberson. "We've created an album that would make Dilla proud," says Frank Nitt, who grew up with Dilla in Detroit. "But this isn't a nostalgia trip: Dilla's beats were so future-forward that they're right on time in 2013, and we've assembled the best artists possible to represent that."

The road to Sunset Blvd has been paved with hard work and sweet inspiration. In 2008, Illa J began making music under the Yancey Boys banner, with the guidance of Delicious Vinyl Co-Founder Michael Ross and utilizing beats his elder brother left behind. Ross explains: "Putting together the first Yancey Boys album was a unique opportunity to keep it all in the family by giving young Illa J a jump off with unreleased beats of his late great brother. In addition, the record was a unique way to satiate Dilla's rabid fan base with a batch of undiscovered gems. On Sunset Blvd, Illa and Frank dive deep into to a new batch of stunning unreleased Dilla beats to take what we did on the first album to the next level."
1. Dilltro (feat. Dank)
2. Fisherman (feat. Vice, J Rocc, & Detroit Serious)
3. Lovin' U (feat. Eric Roberson)
4. Go and Ask The DJ (feat.Guitly Simpson & J Rocc)
5. Jeep Volume (feat. T3 & C-Minus)
6. Flowers (feat. Talib Kweli, Niko Gray & Rhettmatic)
7. Honk Ya Horn (feat.J. Pinder)
8. Slippin' (feat. Early Mac)
9. Without Wings
10. Beautiful(feat. Posdnuos & Botni Applebum)
11. Quicksand (feat. Common & DeziPaige)
12. Rock My World (feat. SlimKid3 & Niko Gray)
13. The Throwaway
14. This Evening










予約についてのご注意
当店ウェブショップの予約についてのお客様のメールアドレスの記入ミスが多々ございます。
アドレスにミスがありますと、その内容について返信することが出来ません。
どうかメール・アドレスに間違いがないか確認してご一報下さいませ。
*携帯メールを記入される方にアドレス・ミスが多いかと予想されます
*「メールの受信拒否設定」の方も多数ございますので、「電話番号を記載頂ければ」問題がある際にお電話させていただきます。
*メッセージを送って頂ければ、基本的に24時間以内に返信しております。返信なければアドレスミスが予想されますので、もう一度(メール・アドレスを確認して)ご連絡お願いいたします。